Writing... an essential skill frequently overlooked in homeschooling circles. Just as Jeff and I were reviewing the skills we might need to revisit with the Gang, the chance to review the
Essentials in Writing course
popped up, so I jumped at it.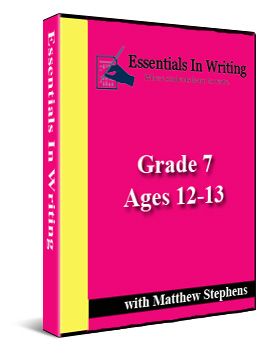 Some of our children write eagerly and often, while others have been more reluctant. I thought we had mastered the basics quite some time back - and while we covered many of the technical aspects, there were some I seem to have missed. One of the blessings of teaching ones own children is sometimes getting a do-over!
Essentials in Writing is a program that comes with four DVDs. Three are instructional and one has all of the worksheets to print off for practice with the lessons of the day. As a money-saving feature, the fourth DVD, with the worksheets, will be sent as a downloadable PDF in the future, or for $20 you can purchase the sheets already printed out to save ink and time. There are courses for every grade level from K-12. We used the
grade-7 course
, I had both 13-year-old Maestro (avid, early reader, reluctant writer) and 11-year-old Chef (later to read, writes constantly) work on the course together.
Each video clip was about 15 minutes long and very simple - the lessons took one piece of the writing puzzle and covered it in detail. The worksheets usually included a one-page overview of the lesson that day and two or three pages of practice exercises of about 20 - 25 problems each. The amount of writing increased, of course, as the boys went further into the class, but the early exercises alternated between the underline/circle-the-answer variety and the write-out-the-sentence variety.
The boys liked the program well enough but felt like the instructor talked as he would to a younger audience - like a Mr. Rogers clip perhaps, asking a question then waiting for a "response." That irritated them a bit; I assumed he was teaching in front of an actual class even while filming, and it didn't bother me in the same way, but I could see Maestro's point.
What
I
noticed was that they were
getting it:
a few days ago, I was reviewing a story Chef is working on and mentioned something about the sentence being incomplete and
I
used the wrong term and called it an independent clause or something.
Chef
was able to tell me the correct term and how it should be used and the finer points of the lesson it came from.
What all that says to me is, irritating (to the kids) or no, the lessons are successful and worth turning the TV (or computer) on for - so though we are not yet finished with the course, the lessons are here to stay - and at $40, it's a good deal!
Click on
this link
to see what other Schoolhouse Review Crew bloggers had to say about Essentials in Writing!