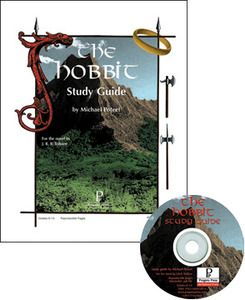 We don't do as many read-alouds as we did when the kids were younger (and fewer in number), but I have been trying to increase how often we read classic literature with them. Even the youngest kids can benefit from hearing longer books read, if only because they're learning how to quietly do their own thing while others in the room are listening, and eventually they get into the stories too. We had recently finished
The Hobbit
again when The Old Schoolhouse put out the chance to review
Progeny Press
'
Hobbit
interactive study guide. It was a chance I jumped on right away!
Progeny Press bills itself as creating "Study guides for literature from a Christian Perspective." They have study guides for a wide range of literature that covers all the grade levels, K - 12. I will get into my opinion of the guide I received in a minute, but wanted to point out a rare thing in Homeschooling curriculum publishers - they give permission for teachers to print/use multiple copies within the same home or classroom. That is not always - or even usually - the case. But it makes me glad that I can reuse the same curriculum with my younger children, as they reach the appropriate skill levels, without having to be concerned over breaking copyright laws (however inadvertent.)
The guide for The Hobbit is a pdf download that allows the user to fill in the blanks virtually. It does not include the Hobbit book, only the study guide. The download is $18.99, and can be purchased as a CD, an instant download or for $21.99, as a printed book. The Hobbit Study Guide is aimed at the high school level. Maestro's reading skill level is easily at high school range so I kept an eye on what he was doing but did not feel like I had to sit side-by-side with him for every step of the way. Even better was that he enjoyed most of the study guide enough that I didn't have to!
I was very impressed with how thorough the study guide was. It started out covering JRR Tolkein's life, and included a wide range of subjects and skills: map reading, nature and science, music, literature (of course!), language arts (grammar, etc), biblical studies, dictionary use, vocabulary, historical perspective, etc.
I did stay close at hand for any discussion of the intent and meaning in various Bible verses. Being Orthodox, we do use the Bible, but sometimes our understanding of certain verses does not mirror that of the rest of the Protestant world-view. Because of that I used the various sections relating to the Bible as a means of opening discussion. The questions relating to the Bible were open-ended though and did not "push" a particular interpretation on the student.
The guide breaks the book up into sections, with the student advised to finish one section each week; the sections are then broken down so the student is doing a page each day, so the student is not overwhelmed by the work involved.
I liked the Progeny press study guide and plan to buy more - not all are the same price, but the price is certainly worth it!