About seven years ago, I stumbled across a homeschooling math book called One Minute MATH Mysteries. It was a gem and I have used it for three of my five children to give fun, short breaks to their math curriculum. When the Homeschool Review Crew put out that they had a review coming up for a One Minute SCIENCE Mysteries book, I was really excited and hoped I would get picked to review the product for
Science Naturally!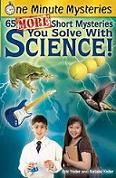 I started out using this book one mystery at a time with all of the kids as a group - ages 4 to 13 years. That worked out pretty well, but the 4 year old Girlie wasn't
quite
ready for the concepts introduced, so she got lost pretty quickly and lost interest as well. But the boys were ready for more! I left the book in a handy place to see what would happen.
It did not surprise me that my three readers shot ahead of me and worked the mysteries on their own. Some they did together, others they worked independently, but they enjoyed them all. The book has 65 short stories that the kids read then disucss the scientific factors to try to come to an answer.
The stories are intended for kids in grades 3 - 6, and my 8 year old is a little younger than that, so needed more help, but he enjoyed working on them with his brothers all the same. When he had done the problems with the older boys, he was delighted to be able to share his new knowledge with Mom in various conversations. My kids seem to be the kings and queen of non-sequitor theater, so the bits and pieces of information he had learned would come out at random times. It is always exciting, though, to see a book that piques their interest and leaves a lasting impression. This book is
available for purchase
, along with other One Minute Mystery topics and books, for $9.95.