Maestro has been talking for a long time about learning to write his own code and build a website for his magic business. When
Homeschool Programming
was offered as one of the options for review, I was pleased to find that I was one of those picked to check out the course. There are four courses available through Homeschool Programming, and Maestro and Chef were able to try out the
TeenCoder Java Course
, geared towards 9th - 12th grades. I know Chef is not quite there yet, but thought I'd let him give it a go anyway, just to see how he would do.
Java Programming is a one-year course consisting of the
Programming
portion in the first semester, and the
Android
portion in semester two. When combined with the extra reference materials a student should be able to take the AP Computer Science test at the end of the program. As far as technical specifications go, we run Macintosh computers only by this point and the Java program was compatible with a Mac running OS 10.5.8 or above. Mine runs on 10.7.5 - so not the newest version out there, but new enough to stand on its own.
The package that came in the mail was a small, simple bubble-wrap type envelope containing a couple of DVDs and a letter. The rest was provided for us to download directly from the site. Each of my boys sat down to watch the first lessons and, I must confess, their enthusiasm waned a bit. The first four lessons are explanatory, giving the history of Java, and how to download and install the programs needed, and don't do as much of the hands on - with boys that can be an excitement-killer: they want to jump in right away and try to use the hammer on the nail, not see what the origin of the hammer is! But, they made it through and were rewarded with the chance to move into higher levels of difficulty pretty quickly.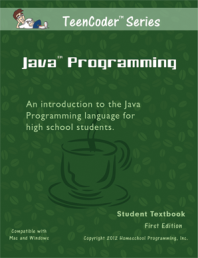 The biggest downside from there was that they were on MY computer so much of the time (and jostling with one another for a "turn" - my question:
when is my turn??)
We had all of the other needed tools easily at hand - Internet connection to download the free software mentioned in the course and to use as a way for them to research new ideas when they wanted (though because of their ages - 13 and 11 - any research was pretty heavily modified).
The Java Programming course is designed to be used at the pace of a chapter a week for 15 weeks. My two are going a bit slower than that. I suppose that is because it is summer, so they're a little more distracted, but also because they were trying the new lessons out on different ideas that they've had over time, but been unsure of how to proceed. Maestro in particular has an idea he came up with two years ago. The idea is a good one, but he didn't have the know-how to put it together, and as he continues working on TeenCoder I think he's making a huge leap in a good direction.
As we have not finished the Java Programming portion, we certainly haven't come into the Java for Android portion, but it bears mentioning as the follow-on to Programming. Java for Android is a program that is meant to take 16 weeks and gives the student a way to write their own mobile apps - an exciting prospect for budding teens used to using those apps on the iPad, etc. From a mom's perspective, it's nice to see them writing the code and not just playing with games from someone else's imagination. Chef in particular, if he makes it that far at his pre-teen age, has some fabulous gamer-type ideas to draw on. Together they could be quite the Coding Team!
Each of the programs, when purchased individually, is $75 for just the course, or $90 for the course and instructional videos. But if you get the combined package, you'll save a bunch and pay only $130 or $155, respectively. Is it worth that cost? Well, it depends (as always) on your child - if they are into programming and want to really shoot forward and learn some new skills, this is an excellent program to do that if they're of an age and ability to follow the instructions. For those on the slightly younger end, like mine, it may take a bit longer to follow some of the logic portions and some of the various computer needs, but with some guidance and help, it is do-able even for their age - and if you have a PC in the house, there are also programming courses available that are not Mac compatible.