All of my older children have enjoyed books like
Wayside School is Falling Down
and other such somewhat silly, zany stories that use a lot of imagination in the writing. Eleven-year-old Chef even keeps a running list of his "favorite" authors (Roald Dahl tops the list currently) and is making plans to visit their museums and where they lived some day. This is to say that reading in our house is pretty serious stuff - most especially when it's reading about the Crazy we find in life. And really: What kid doesn't like the silly, make-you-laugh stories? Well, Schoolhouse Review Crew came through again by offering the chance to read and review a book called
Diary of a Real Payne Book 1: True Story
by Annie Tipton.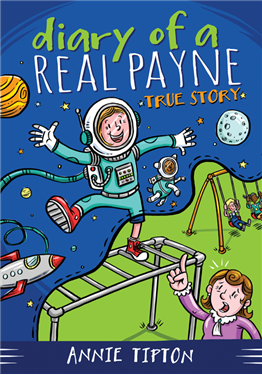 The first book in a still-being-written series,
Real Payne
is a 192-page story aimed at the 9-12 year old group. The story is built around the imagination of a young girl named EJ Payne, who lives in a small town but yearns for
more
. How many of us are not affected by a desire to experience life in the patch of grass on the other side of the fence? I find this is especially true with children because they really don't have as much control over their day-to-day lives as they might like.
How much and how often they are outside with friends, on the TV screen, doing chores, etc. are not really in their control, a book such as this provides a fun way to talk to children about why adults make the decisions that we do.

So I've asked Chef what his favorite part is. He says, "My favorite part is when she pretends to be a barber and snips up her brother's hair. They have to hide it with a hat for a month, but they're discovered when he gets excited and turns the wrong way.
"It's my favorite part because it was funny when he got discovered. He was so happy that he turned his head fast and his hat flew off, and his mom had just taken them out to have ice cream. They were given ice cream and all of a sudden the mom looks over and there is just a gouge in his hair, and the person she just bought ice cream for put that gouge there.
"The parents handled it pretty well but they were surprised. They were okay with it though because it was almost grown back by then and EJ had just gotten into the spelling bee so they were proud of her at the same time.
(From this book) "I learned that it's okay to imagine things but when you get into it too far, you lose awareness of what's around you and that's when you mess up.
"I would definitely recommend the book to others becasue it was a lot of fun. I especially connected with EJ because like me she is 10 years old and uses her imagination a lot. She wants to be a lot of stuff when she grows up and imagines she's already doing those things. I do that in my own life too!"
We are in the middle of another series right now so I haven't yet read it aloud to Bruiser or Buttercup, but that is definitely on the list! Diary of a Real Payne Book 1: True Story is currently on sale for $4.49 (normally priced $5.99) and would make a nice, non-sugary stocking stuffer or small gift for even somewhat reluctant readers. The second book in the series - Church Camp Chaos - is scheduled to be released in March of 2014.