It is a heavy "review" kind of week! So today I am reviewing the Science4Us.com online subscription for the Schoolhouse Review Crew. The Square-in-the-Middles (Bruiser and Buttercup mainly) have really gotten a lot out of kids shows that are geared towards teaching science. I don't have a simple science program for them to work on so really appreciated having the chance to review Science4Us when it came around!

This program is geared towards kids in Kindergarten through second grade, and can also be used as an early science review by kids in third through fifth. We used it with Buttercup (K/1) and Bruiser (3rd). The older kids didn't look at it; Mr. Magoo (2 years old) looked on while they worked. And they love this program!!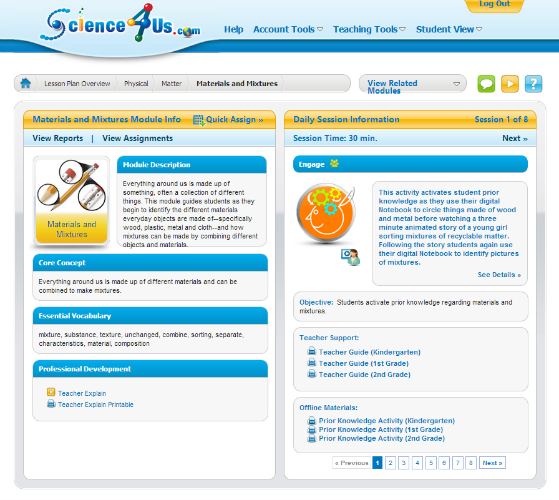 teacher's page
Okay, true confession here: I was so busy looking at the kids' section of the program I didn't do a whole lot with the "teacher's page" but you can see a screen shot of it above. There are lesson plans, student reports (I did use that part!), ways to assign specific work for students - and this can be assigned to all students or just individual students in your group, etc.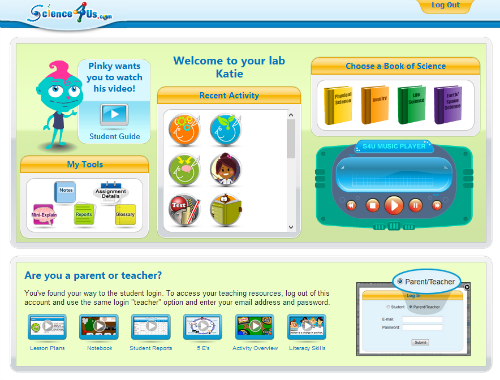 Student Page
When one lesson started out talking about adjectives to describe the five senses, I thought Buttercup might be a little young for some of the activities. I was reassured when the follow-on activities explained not only adjectives but also verbs, nouns, etc. Then I was really pleased because it meant that this is a program that a) I could watch from a distance and see she was getting it, and b) she would be learning parts from other subjects as well! Two (or three!) for one deal, yay!
Buttercup, Mr. Magoo and Bruiser getting ready to watch a video
So what is the bottom line on Science4Us.com? The kids ask to do the work, the price is reasonable at $7.95 per month, per student, and it's fun - on top of that, they were actually putting the lessons learned into every-day life use when off the screen. For me, those are all HUGE wins! We'll definitely be continuing this program even now that the review period has ended.