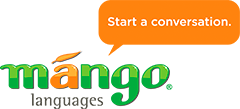 Today's post is a review of the program/website Mango Languages, and its program Mango Homeschool Edition courtesy of the Homeschool Review Crew. The timing is perfect for this review because the White Knight is eligible for retirement in 2015. A long-held goal has been to punctuate that retirement with a trip to France with all the kids. We really really want to travel more before Maestro leaves home in a few years. We have talked off and on about doing serious French study as part of our homeschool program before taking this journey to France, so I was excited to try a new program.

We have tried other programs - workbooks, Rosetta Stone, etc - and they have been decent starts but have really not grabbed the kids' minds well enough for them to want to return to them. When homeschool days fill up and there is limited time to give to everything, I'm not going to be as likely to push in areas that are somewhat "extra". Math is always going to come first over foreign languages if we're running behind in a subject, in other words.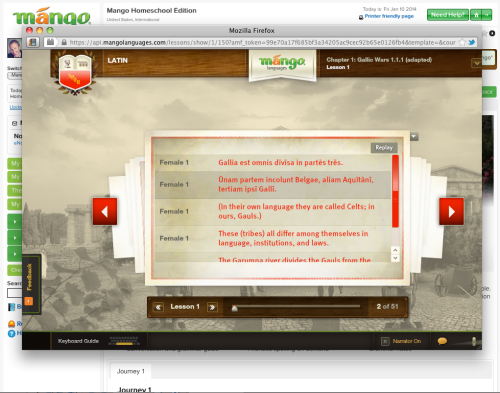 So what did we find with Mango? Well, Buttercup tried it first on her own. Buttercup is 5 now and a very quick study, generally speaking, and does a lot of self-teaching, so I thought I'd let her give it a go. It was NOT a good fit for a 5-year-old to do completely on her own. She didn't understand what they were trying to do and so didn't really touch it again. Hmmm... a bit of a discouraging start. Let's see what happened with the rest.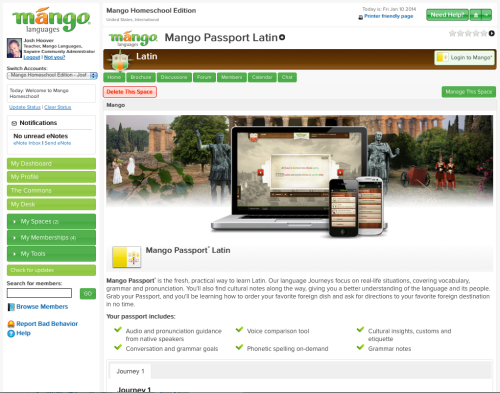 Next up to try Mango out was Chef, now 12 years old. Chef is not the one I look at as my "tech kid", and though I didn't know it at the time, he started out very dyslexic - and because I didn't know it at the time, he learned how to learn for his needs, something I am really grateful for. In the end, it means that dyslexia doesn't matter because he knows how to do what he needs to do to live up to the super smart kid he is, and is not held back by "labels." SOOOO, what happened with him?
Chef Ate. It. Up. The program was a little tricky in the beginning so I did have him go through the portion that shows him how to use the program. By evening he was so pleased that he could say the starter three or four phrases that he greeted his French-nearly-fluent Pop with it at the door. Better still, from a homeschooling perspective, he had a couple of questions to ask the White Knight about grammar and semantics (major bonding moment there, trust me), so, I could see that it gave him some "meat" to chew on as he went through the day as well. Anything that grabs a kid's attention enough to keep it on his mind as he is working on other things is a huge win.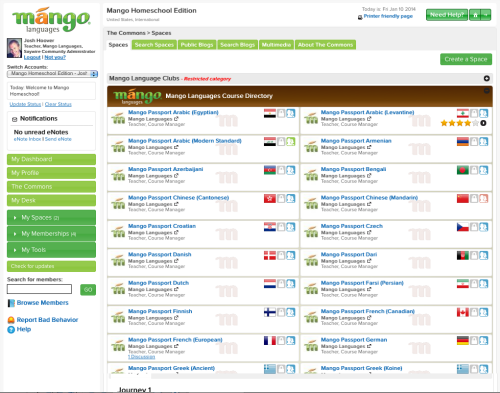 What happened next? Well, Chef asked to work on Mango Languages again the next day, and the next. Then the other kids began to sit alongside him while he worked on it so they have begun to greet Pop with little phrases and expressions. (YAY!) I'm sure you can tell by now that I am pretty impressed and excited by this program and where it might take us!
Maestro - my 14-year-old artsy, right brained guy, has not begun using Mango yet because he has had some other big projects he's working on for a different class. He will be using it as well and has said he wants to, just based on looking over Chef's shoulder. Chef said he likes Mango better than any program we have tried to use so far.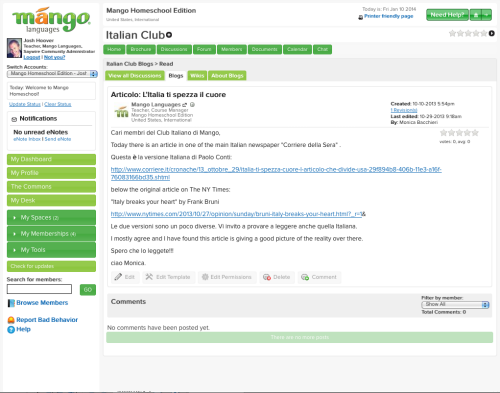 One of the best parts is that Mango Languages actually has more than 60 languages to choose from - something Maestro is really excited about. So in the near future, Bruiser - 9 years old - who begged me to work on Mango Languages on the laptop this morning, while I am writing this review, plans to start studying their Russian program as well so he can better connect with his best friend up in Baltimore. And Buttercup? She has begun to sit in next to Chef to try it out a second time.
I like too that I can go in as the "teacher" and assign different portions for them to work on that week. They do not have tracking options yet but that is in the works and should be on board later this year, to my understanding. Tracking is a HUGE homeschool need because so many of us need to keep portfolios, whether for a high school transcript or for homeschool reviews required by the state. I was also impressed that they are keeping on top of homeschool families' needs and trying to come up with means to accommodate those needs.
A few more details on Mango Languages Homeschool Edition:
1 subscription is $18/month or $125/year total
2 subscriptions is $28/month or $175 /year total
3 subscriptions is $38/month or $225/year total
4 subscriptions is $48/month or $275/year total
5 subscriptions is $58/month or $325/year total
Anything over 6 subscriptions is a special group rate that will depend on the number in the group.
What is currently available on the site:
Over 60 different languages
Progress Assessments

Built-in journals, discussions and wikis
Collaborative learning spaces
eNote messaging
/chat rooms

Access to embedded/downloadable content

Support from other community members

Calendars to schedule meetings or study groups
Over the next several months, we'll be introducing other exciting features like:
Enhanced Tracking and Progress Monitoring - including seat time (for students and parents)
Goals and Personal Lesson Plans (both stand-alone and tied into Mango courses)

Resume and Portfolio Builder