I have been a
huge
fan of
Out of the Box Games
since The White Knight was in Iraq in 2007.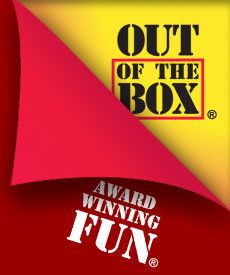 They donated to our boxes for deployed troops, they were a fantastic way to have games for in the car, and a way for me to get some non-screen board game time in with the kids in as few as ten minutes! Well, this most recent review opportunity for the
Snake Oil - Party Potion
game had me pretty excited as a result.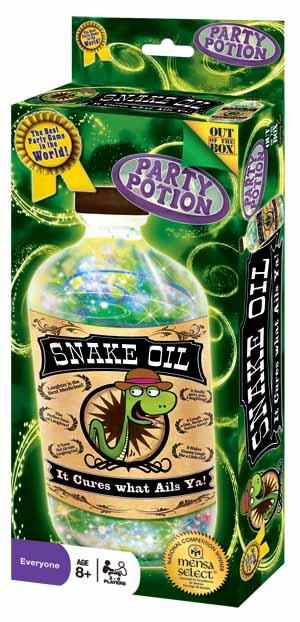 This game is aimed at kids ages 8 and up, but honestly? We all played, and this was the most fun I've had with a board game in a long, long time. When we first got it in the mail, I was cooking dinner and had the kids open it up, take a look and (hopefully) give it a go. I don't know what was in the water that day, but they all had trouble figuring out the rules. I think it was really more of an I-don't-feel-like-doing-it attitude from the oldest two, but whatever. So we didn't play it for a week or two.
But the night we had a chance to give it a shot, they didn't want to stop. Like all Out of the Box games, the rules are fairly simple, require little set up and are designed to take just a few minutes for a round or two. There are two different two-sided cards players work with. One player is the "customer", and can be anything from an astronaut, to a school bus driver, to a president. The other players get six cards each and use any or all of them to put together a "product" to try to sell to the customer. Each then has 30 seconds to promote their product before the customer chooses the best item to purchase.
A sampling of the "Product Sales Pitches" we heard at one game:
The customer was a Toddler.
From Chef:
You're outside playing. You're at the park. Sometimes you don't have time to rush home. You're a busy girl when you're a toddler. But it doesn't have to be that way! You don't always have to run home. With the new Scooter Potty! Go whee while you pee!
From Bruiser:
Tired of all that food - spaghetti sauce, milk, water! falling on your daughter's new skirts and dresses? Could cost you a thousand dollars! Don't be afraid to get the new - not that expensive, very cheap - Bib Skirt! Don't drop unless it plops. The new Bib Skirt!
From Maestro:
When you're a toddler, what's the most important thing? It comes before nap time; it comes after nap time; and it's considered a part of lunch time. Picking your nose! Picking your nose is considered a fundamental part of a child's development. But sometimes the taste gets old. That's why you need an upgrade: Cookie Snot . Cookie Snot! Don't scrape the old pot, get Cookie Snot!
*Ahem*
As you can see, it challenges the kids to use the old noggin' and think fast on their feet, and is a complete hoot!
This is a game worthy of every home - especially if "board games" aren't usually your thing. This is a quick and easy way to get some laughs in and reconnect with your kids. Even the youngest kids can be challenged to come up with something clever to say about an item. The game can be picked up for $14.99 and even makes a fun, non-candy "extra" gift at Christmas if you need one.