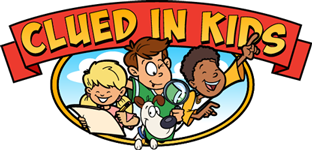 What parent would turn down the chance to keep a whole group of kids happily and easily engaged and occupied for a half hour? You know you wouldn't - and neither did I! I was glad to have the chance to review Clued in Kids for the Schoolhouse Review Crew.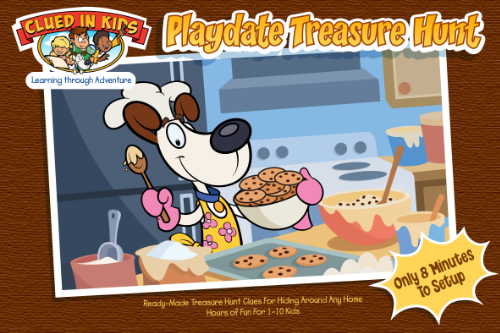 I was given two hunts to try out -
Playdate Treasure Hunt Pad
was the first one we did. To be honest, life has been pretty hectic here lately so I held it for a while and didn't do anything with it because I didn't feel like I would have time to set it up and give it a fair shake.
How wrong I was!!
Now, I have so many papers on our counter at various times that the kids didn't mess with the booklet, so I suppose I got lucky there. I'm working on the paper thing but that is a different post. I finally decided that a good time to do this hunt was when two of the six were quarantined for illness and couldn't go outside.
Setting up the clues took me about five minutes.
In a sock drawer
Super simple.
Under a bed.
Then I got to this clue:
In a backpack?? With six kids in the house and about a ga-zillion back packs, how will I figure out which pack to hide it in?! Well, clearly I figured out a decent one since they figured it out pretty handily.
Four of the kids participated: Chef (12), Bruiser (9), Buttercup (5) and Mr. Magoo (3). I know it says to use this for a play date, but when you have six in the house, every day can be a "play date"!
The clues were spread out over a variety of ages and abilities, and each game included a number of educational skill sets, from counting, to adding, to colors, reading - these were all in just one or two games!
Buttercup counting chocolate chips to reveal the clue
There were slots to write in a name at the top of each page. Clued in Kids suggests writing in names to help minimize arguments over who would get to do the next one. Good thinking!
Reading the directions for a color-based
clue to Mr. Magoo
There were twelve clues in all that ranged from "in a sock drawer" to "under the forks" to "under a bed".
figuring out where "in the sink" might be
Our family was also allowed to try out the
Thanksgiving Treasure Hunt Printable
.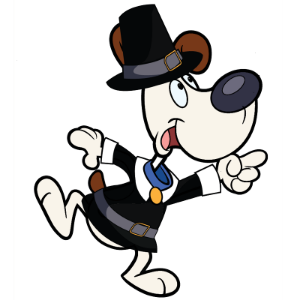 This printable is instantly downloadable for $5.99 and a good way for kids to pass some time while adults take care of holiday prep work.
Regardless of age, the kids started out enthusiastically. A fave moment: The clues took the kids up the stairs and down multiple times over the course of the game.
There were also some "activity" clues - pretend you're hula hooping while singing the alphabet was one, providing a number of "get-you-moving" moments when TV might be a bigger draw as weather gets colder outside.
Final prizes! Yay!!
Clued in Kids also has party treasure chest sets for $24.99,
more hunt tear off pads at $8.99 each, 'treasure', 6- and 12-month memberships for $25.99 and $44.99 (that is a great deal!), and an option to allow parents and teachers to make their own puzzles!
So what do the kids say about this fun-time game?
Buttercup: "I want to do it again!"
Bruiser: "Can we do another one?"
Chef: "It was a little too easy." (He is a sophisticated 12, after all - and in fairness, it is a little "young" for that age.)
Mr. Magoo: "Let's do it again!"