With an absolutely fearless two-year-old in the house, it is important to re-enforce certain safety concepts as early as possible. The wonderfully illustrated, perfect-for-the-youngest-kids book Look Left, Look Right, Look Left Again, distributed by Greene Bark Press, fell into my lap for a review just as said Mr. Magoo had figured out how to open the storm doors and make his daring escape up the street!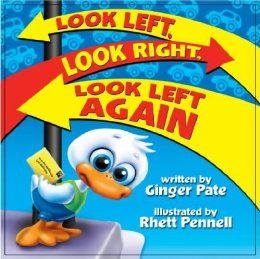 This book is a cute little board book, and so geared towards just that 2-year-old group, but as soon as we got it in the mail, my older children sat down to see what it said too. We read the book once, then again, then a third time... I finally set it down for them to look at on their own and see what would happen.
Buttercup picked it up to look it over - she is learning to read and this book is a bit difficult for her (R-I-G-H-T can be difficult to master when you're starting out!) but she wanted to see it closer up anyway. Mr. Magoo (2) sat down next to her to look.
This is a little book about a duckling who needs to mail a letter to his grandma. To get to the box, he has to cross the busy street. He tries once on his own and when his mom sees him almost get run over, she comes out to give him guidance. And, of course, by the end of the book, he is set to get across the street with his little mantra of "Look left, look right, look left again."
Okay, this is the "build independence in your kids" side of me, but I really like that the book shows him trying it on his own first and then Mom coming out to show the way. Have confidence in yourself, but know that Mom is there to teach and guide when needed. Though it is a minor blip in the book, it really played out well for me.
Understandably, the oldest two got tired of its message pretty early - it is a repetitive book, and so fitting to the largely pre- or early-verbal set - but it's message is important.
Fortunately the oldest boys were not so put out by the repetition that they wouldn't read it again and again to Buttercup (4 years) and Mr. Magoo!
According to the New Jersey Independent Press, this is Ginger Pate's second book. She wrote the book after having two experiences with car safety herself. One in which she was hit by a car as a child, and the second when she was tutoring a girl in a hospital who had been hit by a car.
The book is aimed at kids ages 3-8, and sells for $8.50. An extremely reasonable price for a very important lesson.