There are so many personality tests and quizzes out there that it can be hard to know which ones will work to give you information that you can really use. When The Old Schoolhouse folks put up a review opportunity for StudentKeys Binders, I thought it might be a good one to try. Maestro will be 14 in November and one of the things we are working on with him this year is taking control of his own education - helping keep track, set his own goals, etc. And
PeopleKeys
offered the opportunity to strengthen his knowledge of himself through their
StudentKeys Personality Binder
.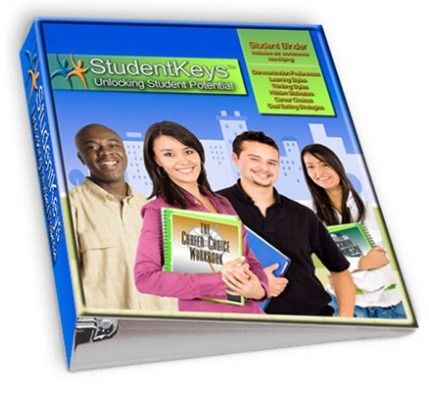 Maestro is a little bit younger than the stated age range for the binder - the binder is advertised for high school students, and while technically he will be 14 this year, his birthday is so late that we are having him make sure that all of his "8th grade" knowledge is sound before throwing him into the high school melting-pot of educational ability. Regardless, his reading and other skills are such that I felt it would be a good experience and help him to find his direction in doing such a course.
The book we received in the mail was a simple three-ring binder with thin "workbooks" inside. Each workbook is about 15-20 pages long, and takes approximately 20 minutes to complete. It's not that there are so many questions involved in each one, but that the questions have answers that can go one way or the other, and we humans are not simple creatures.
Each booklet can be purchased separately at the website above for about $13. The areas covered include:
Personality,
Perceptual Learning Style,
Cognitive Thinking,
Values,
Career Choice and
Goal Setting
This is the type of thing that a student might do in a high school counselor's guidance office perhaps. My husband and I did something similar during our pre-marital counseling years ago; we still have those results today, though we haven't referred to them in a while. Such reviews
can
be quite helpful in personal development.
There are four primary personality styles in the Personality Workbook:
D - for Drive and Challenges
I - for Influencing and Relationships
S - for Steadiness and Consistency and
C - for Compliance and Constraints
The Workbook told me that he is a combination of IS - which means he is more of an Extrovert, Optimist, and Persuader (I style), and a Realist, Watcher, and Diplomat (S style.) The book expands on those concepts in the subsequent pages, offering insight on how one approaches a task ("I want to do things the fun way", and "I want to do things the easy way"), how to enhance communication with each personality type, and ends with two pages to help Maestro determine how to use his results to build a better relationship with those close to him.
Each of the other workbooks gave similar question-answer pages, followed by results and how best to use them.
So how did Maestro fare with the program? Well, he struggled a little, to be honest. He didn't understand why he needed to do the workbooks and what it would gain him. I'm not sure he does even now. So we've saved them to do again in another year or two, but in the meantime, it has given us a better direction to use with him, and to help guide him as we move through his eighth-grade year.
One thing I am really looking forward to is seeing how his results change (or not!) in the next year or two. I'm also going to have the White Knight take each test on a separate piece of paper so we can compare, and learn to work better with both the kids and with one another.
The full binder, with all six books, costs $49. If you want to get a comprehensive overview of how you might best work with your children and those around you, this is one of the more reasonably-priced, from home and comprehensive courses you can have.