I mentioned in my last review that we are working on French this year and next as The White Knight nears retirement. We have tried workbooks,
Rosetta Stone
, websites, YouTube videos and other such means to get the kids involved. While a few words stick here or there, nothing of substance stays around for long. Schoolhouse Review Crew offered the chance to look at the online program
French Essentials
, and I was happy to get the chance to try it out - especially because I can use it with each of the older children and for the entire year.

Offerings and Ages:
The program is pretty extensive and offers ways to study grammar, writing, listening, culture and reading. You can
try sample lessons
or
take a placement test
before you jump in. The screen shot you see just above is what the student sees when first logging in. The modules are aiming at students who are 3rd grade up through high school levels, because of the reading and writing involved.
I tried this out mostly with Maestro (a strong speller and reader, and roughly at tenth-grade ability for a program like this). I had Chef (11 years old, 6th grade) try it as well, but he struggles with English spelling and dyslexia, so adding in the nuances of French proved to be too much for him unless he moves very slowly - perhaps one very short lesson a week. Bruiser, who will be 9 in December, but also has dyslexia and is still picking up speed in reading and writing I left out - in his case this program would have caused little more than angry tears and frustration. He is much better off learning from his older siblings and focusing on the spoken aspects for now.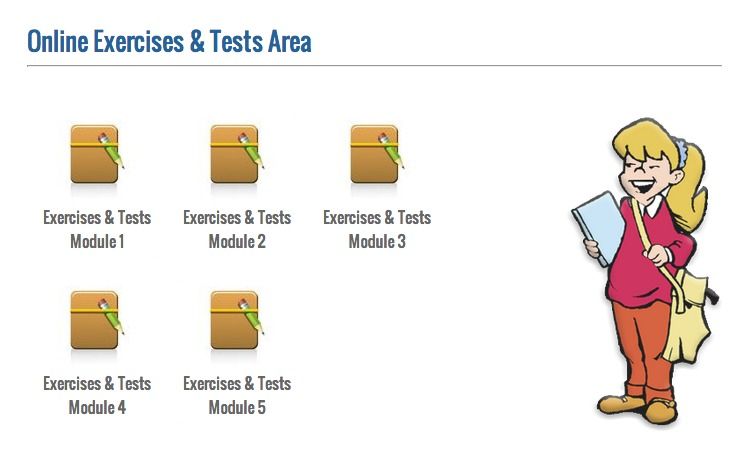 Once the student heads into the Exercises and Tests section they choose the module they have been working on. As with any language program, it is best to continue lesson-by-lesson instead of jumping around, to get the best result. Languages are like math that way - skip through and you're guaranteed to miss something important!
One thing that caught me off guard at first is that the first three lessons are not online and need to be downloaded from the download area. In some ways it was good to discover this because it reminded me that you can - and should! - download each of the virtual workbook pages to take with you and work on later.
I appreciate being able to download lessons for those times when I am unable to get online for whatever reason (like last week when we were out of town), this also allows us to use car time as additional study time when on the way to appointments, etc. The other benefit to downloading is that it provides workbook pages to reinforce the spellings for each expression given, as well as additional grammar notes to be aware of.
Downloads for the various modules are broken into individual lessons - Module 1 has 20 lessons available. Another benefit to downloading the modules is that you will then have access to the lessons even after your purchased time has ended (see the final paragraph of the review for more on pricing and time limits.)
The lesson begins with flash cards - these cards are first read out loud in French, then you click the "card" and it flips to give the English. Following that is a game called "Scatter" - essentially, you read the French expression and drag it to meet up with a picture illustration (and English translation). If you have matched the French and English up correctly, they disappear. This is a timed game, and helpful for reinforcement, and also for keeping somewhat younger kids engaged. Once you've played the game, you can opt to play again and try to beat your previous time.
A second game is a bit more challenging because it involved being able to spell the French. The game "Race" scrolls the expressions across the screen in English and the student has to type the French in before the depiction exits the screen on the other side. For an older child this game is workable, but for my nearly-9-year-old Bruiser it proved to be too much of a challenge for now. If your student still has trouble typing quickly this can be an issue as well.
Other options within the module include "Learn", where you can hear the expression spoken in English or French, and then the student provides the typed translation; "Speller", in which the student hears the French expression spoken aloud and types it in; and "Test", which includes a section to write out the answer, multiple choice answers and True/False. In each section, there is a lot of flexibility for the student: s/he can pick whether they are working in the English or the French to begin with (and then translate the opposite direction), whether to work on spelling, listening, etc. and other options, depending on the module and the section.
Finally there is the Culture portion. The screen shot you see above is from that section. Each picture provides a single slide offering a bite of French culture: customs when greeting one another, places in which French is spoken, how French traveled to other countries in the world, places in North America in which French variations are used (Quebec and Louisiana, most notably), and a note on the group La Francophonie. There are also images of various places of note in France and Quebec, and a small "did you know" section.
So what is the Good, the Not-So-Bad, and the Bottom Line?
The Good: The lessons are short and once the student has progressed into the lesson area, easy for even older elementary school students to use. Junior high and high school levels should have no trouble whatsoever.
The lessons provide a good start at the French language and are fairly comprehensive in terms of using the listening, spelling and reading. There was not a way to practice speech that we saw.
The Not-So-Bad: The program is not complete. There are more modules coming down the line (you can see them in the download area, but they are greyed out) and I do not know how the company will work that if you've purchased the one-year option. My assumption is that as the modules become available students will be able to access them, regardless of what was there when first signing up.
Though the program is aimed at mid-elementary through high school, it would not provide a complete high-school level course, aimed at making the student ready to tackle a secondary college level course. It is enough to get the toes wet and perhaps provide for a foreign language high school credit or two for graduation purposes, but little more at this point.
Finally, though there are ways to practice listening and pronunciation on the program, the overall emphasis is on the spelling, it seems. This can be helpful for a reader (like Maestro), but a sure-fire stumbling block (and a way to frustrate and put off) a child who struggles with reading and letters in his own native language. For that group it is best to stick with the spoken portions at first and take the writing much more slowly. Or perhaps cycle back through each lesson - first do the spoken portions and get used to how it sounds, then go back from Module 5 to Module 1 and begin again with the written portions of he lessons, just as you might learn to speak if you belonged to a French family.
The Bottom Line: Will we continue using the program? I've let Maestro decide on whether or not to continue. He is working fairly quickly through it and has decided to continue for the time being. Are there "better" programs out there? Well, for different needs and learning styles, probably, but this is enough to give a taste of the language and culture and can be a good supplement and jumping off point for the language.
Pricing: While you could purchase this program module-by-module for $69.95 each, the modules are only available to use and download for 90 days. We were given the Full Access package, allowing us a year to look at each of the modules, try out various features, download lessons, audio and workbook pages - the works - which runs at $149.95.